I am not a smoker, but unfortunately almost everyone in my family seems to smoke cigarettes. Don't ask me why because I don't have the slightest clue. I honestly can't stand the smell and it rots your teeth and stains them, you stink, turns your fingers yellow and ages you. Ask me how I know this? LOL
My mom at the age of 48 has false bottom teeth because of smoking. It's a nasty habit that started at 16 years old that unfortunately she couldn't break. She's about to get false teeth on the top row now too and she looks way older than what she is.
I told my mom that if she couldn't give up regular cigarettes that maybe she should try the new electronic cigarette, 21st Century Smoke E-Cig. I still don't approve of smoking in general, but this to me seems like the better alternative since these e-cigs contain no tobacco, no tar and I don't smell a thing!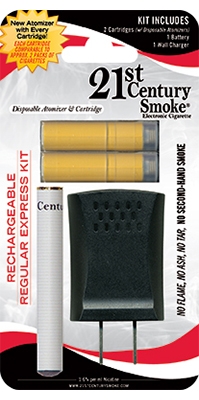 Are They Safe?
The biggest danger from tobacco is the smoke, and we all know e-cigarettes don't burn. They do put out a puff of smoke when exhaled but it's really just vapor. Tests show the levels of dangerous chemicals they give off are a fraction of what you'd get from a real cigarette.
The liquid in e-cigarette refill cartridge is typically a combination of nicotine, flavorings like grape, watermelon, menthol, etc., propylene glycol (a solvent), and other additives. The amount of nicotine depends on the mixture of the particular liquid-nicotine cartridge installed in the device. Some products contain nicotine amounts comparable to regular tobacco cigarettes, while others contain levels closer to that of a light or ultralight cigarette. My mom at first went with one that contained high amounts of nicotine and she didn't like it. It was almost so off-putting to her that she decided she was going to switch back to regular cigarettes until I told her she could get ones with less in them.
How Do Vaporizer Pens Work?
Vaporizer pens direct electrically conducted heat through oils that are encased in ceramic so that the active herbal concentrates melt and create aromatic vapor. This vapor doesn't contain any tars or toxic gasses.
Overall, I am impressed with Vapor pens since I don't have to breath in second hand smoke. It's not pleasant to smell or breathe in when you're a non-smoker. Just the other day in my area, there was a ban put on smoking in public parks and recreational areas, which is a huge plus in my book. When you're out enjoying nature, you don't want to be bothered by smokers who are inconsiderate of their actions, not only from smoking around you but throwing their cigarette butts on the ground (aka littering). You're there to enjoy nature, not have it ruined!
Some businesses even allow you to use Vapor pens inside. I know my local bar does. I'll see a random cloud of smoke but don't smell anything, and I immediately know what it is. I am all for that if that's what makes the person happy because it makes me happy too. It's a win-win. LOL So overall, its more socially acceptable to use e-cigs. You don't bother those around you and you get the satisfaction you still crave.
Do you smoke and would you or have you tried vaporizer pens?