Have you ever found jammies so cute and festive that you just had to get them for the entire family for the holidays? My nieces are so close in age that I think they prefer to have matching pajamas, and it lessens the fighting because they're exactly the same! 😉 They are perfect for long winter naps and will keep the entire family snugly warm all season long.
The hard part is finding the same ones in-store for the entire family, but no worries, cause Sleepyheads has got you covered. There are so many styles, patterns, colors that you're bound to find one that appeals to the entire family, yes even dad!
I absolutely adore the Lazy One Bear Bottom Flapjacks Family Matching Long Johns because they have the bear butt flap in the back. Would be awesome if the flap actually unbuttoned for when you need to go to the bathroom without having to take the entire one piece pajama off. Am I right?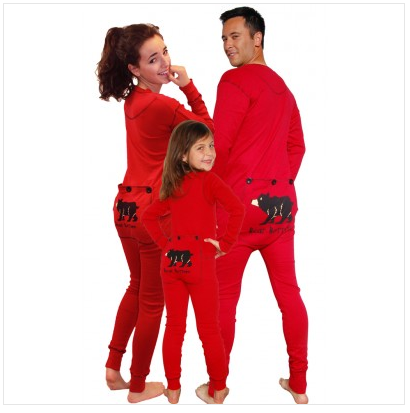 You'll absolutely love these Long Johns from LazyOne because:
When it comes to one-of-a-kind leisurewear, LazyOne stands apart with their line of innovative products and unique word play. LazyOne is also committed to conservation; they say that the state of nature is their state of mind! They're around $20-40 a piece.
Would be a perfect ensemble for Christmas day; the entire family in their matching pajamas, gathered around the Christmas tree with love and happiness ready to open up gifts. Later having breakfast and sipping on hot cocoa laughing and enjoying each others company. I think being in the matching pajamas would make the perfect family photo for your Christmas cards. Nothing more precious than bear butt flaps on your pajamas to lighten the mood and send cheer.
Go check out more information on sleepyheads over at lifestylepost.
What pajamas are your favorite? I surely can't see my husband wearing the zebra print. 😉