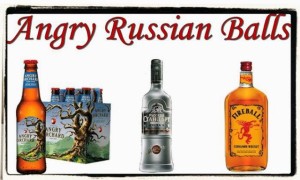 When we have people over drinking or we're out drinking at someone else's place, this is usually my go to drink. It gets you buzzed and quite quickly! For those that know me, know that I am shy, and we all know alcohol allows you to let go of your inhibitions, so there you go.
What You Need to Make Angry Russian Balls:
Pint Glass
Angry Orchards Cider (any variety, tastes best with Apple crisp [blue label])
1 shot of Vodka (any brand, preferably Russian Standard as pictured above)
1 shot of chilled Fireball or any other cinnamon whiskey. It won't be true Angry Russian Balls unless you use Fireball though. 😉
Pour the glass half full of Angry Orchards, then dump your shots and top it off with as much of the leftover Angry Orchards as you can. Wa-la. We find that the vodka mellows out the sweetness of the cider and the cinnamon gives it just enough kick! It's delish. I even like to sneak this theaters in my REI water bottle. Makes boring movies much less boring.