With summer upon us that means camping trips, beach trips and vacations to exotic places, but what happens when you're in pain, have heartburn, or are suffering from an annoying hangover and you forgot to pack all of those pills? CRAP! The First Aid Shot is a lot more convenient since it's a fast acting liquid medicine that comes in a single serving sized bottle. I hate taking pills since they can be hard to swallow and and obviously the
My husband and I went on a camping trip so that we could hike table mountain the following day with some friends who were going to come up and do it with us. Needless to say, I didn't make it too far in since I'm way out of shape, but my husband and his friends got to the base of the mountain. Once there, my husband decided to convert his pants to shorts and didn't have his shoes on while his 2 friends messed around with a tree trying to knock it over. They're obviously not the smartest tools in the shed. Get those 2 together and they act like 15 year olds when they're in their mid 30s. /shakes head. So they're trying to push this tree over while my husband is sitting there telling them that it's not a good idea since he can't move and guess what happens, yup, a tree branch from 60 feet up breaks off and lands right on top of my husbands head which created a nice little gash. Luckily he had my day pack with him that had The First Aid Shot for pain relief and a first aid kit since blood was pouring out of his head. After that incident, they came back to camp which took about 20-30 min to walk back to and we packed up and headed back into town since I knew he was going to need sewn up. He ended up needing 8 staples in his head. Hopefully he won't be doing any hiking with those 2 not so smart friends again!
First Aid Shot Therapy
What active ingredients does F.A.S.T. pain relief have in it?
F.A.S.T. pain relief has 500mg of Choline Salicylate and 65mg of caffeine.
Choline Salicylate can be absorbed into the bloodstream up to 5x faster than aspirin. A painkiller taken in a tablet form has to be broken down into smaller particles and then absorbed into the bloodstream before it can start working, but F.A.S.T. Liquid Relief ® can be absorbed in minutes, allowing it to get to work on your pain F.A.S.T.  Source: Choline Salicylate patent 3,069,321 Patented Dec, 18, 1962
Caffeine acts as a analgesic adjuvant – which means that it is an ingredient added to pain relievers to make them work more effectively. Medical research has demonstrated that caffeine, when combined with a NSAID, can significantly improve effectiveness in relieving tension-type headache and migraine. In fact, a review of several scientific studies estimated that, for patients with tension-type headache, caffeine may increase the pain relieving effect by up to 40%.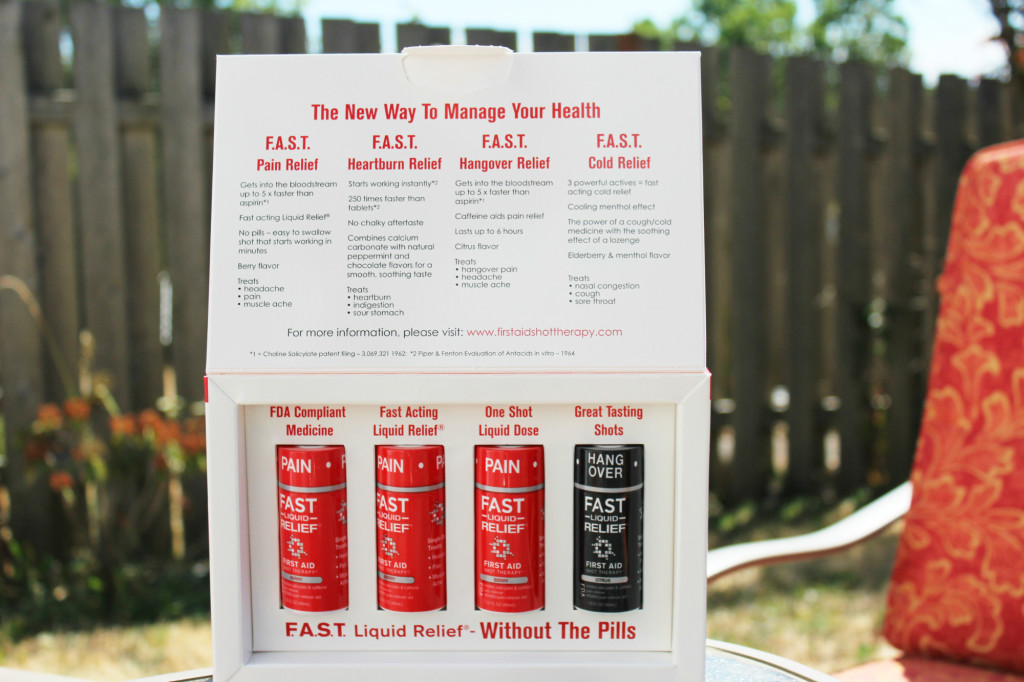 I like that it's FDA approved and is fast acting. It also tastes great! It does still have that slight pill taste to it, but the berry flavor masks it quite a bit. It's recommended that you take it at the first sign of pain and should last 3-4 hours depending on the severity of your pain. Obviously my husbands pain was a little more on the severe side since he had an open wound, but it did help some when he got over the initial shock of it all.
The First Aid Shot Therapy is definitely suited for people on the go or who have trouble swallowing pills. They can be found at Safeway or on Amazon. Go get yours now!
Would you like to win a sample pack of F.A.S.T. products plus a $25 Safeway Gift Card!?
The First Aid Shot + $25 Safeway GC