Check out the find that cat Facebook app for Groupon to score $5 off any $5+ purchase. This was a must have for me because Groupon usually always posts the local theater deals for Cinetopia on there for $19.95 which includes 2 tickets to any movie including 3d in any theater at any location + a beverage voucher. So, essentially because of this cat challenge, I got it for only $14.95 – score!!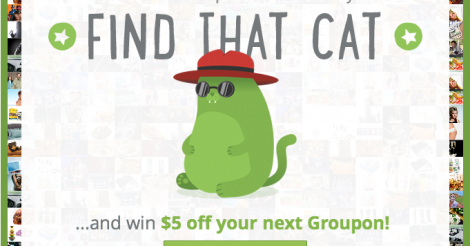 Note 1 regarding finding the cat: You cannot see the cat in the default view that has multiple tiles. Only when your cursor hovers over the tiles and a tile is enlarged will you be able to see the cat. You do not need to actually click on each picture to see the cat – just hover your cursor over the tiles.
Example: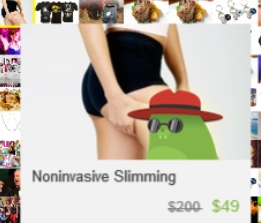 Note 2 regarding finding the cat: The cat's position varies from game to game, as expected.
Tip regarding finding the cat: Go row by row or column by column and keep an eye out for a large green object. The green cat should take up approximately 20% of the bottom right corner of a tile.
Note regarding the terms of the discount: Once you find the cat and proceed to the Groupon page, you do not need to place the order immediately. The terms state, "Special Discount You have $5 to use on any one Groupon deal of $5 or more! It's time to get shopping – this offer expires on October 24. Discount automatically applied to qualifying purchases at checkout."