If you print this coupon for $2.00 off a Candyland board game, you'll be able to snag it for only $2.77 at Walmart. Be sure to print your coupon now before they've reached their redemption limit if you're interested in this Candyland deal.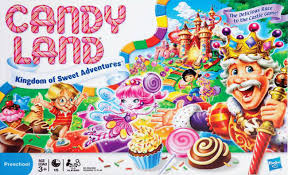 Classic Candy Land game features delicious-sounding destinations and sweet adventures

Easy-to-use spinner

4 sweet characters: Mally Mallo, Twirly Girl, Cutie Cone and Giggly Gumdrop

Includes gameboard, 4 character movers, spinner and instructions
There are also other Hasbro Toy coupons that were released today if you want to score a deal on another one you're interested in.
$3/1 Hasbro Catch Phrase Decodes, Taboo Buzz'd or Trivial Pursuit Hints Game
$3/1 Mouse Trap or Chasin' Cheeky Game
$3/1 Monopoly, Scrabble, Game of Life or Twister Game
$2/1 Memory or Cootie Game
$3/1 Operation or Battleship Game
$3/1 Hungry Hungry Hippos or Elefun Game
$3/1 Play-Doh playset: Disney Princess Magical Designs Palace, Cake Mountain or Diggin' Rigs Buzzsaw
$3/1 Littlest Pet Shop Scene Style set
$5/1 Littlest Pet Shop Style set $19.99 or more
$5/1 Easy Bake Ultimate Oven
$3/2 Easy Bake Oven refills
$3/1 Any Hasbro Game