Since my nieces birthday is coming up February 11th, I decided I should start looking for gifts now instead of waiting until the last minute. Christmas was just last month so she has plenty of toys, so I decided to go for clothing since they're always growing and could use more at any time. I was browsing around and stumbled upon these really cute clothing sets on Amazon for as low as $4.19. That's cheaper than the clothing sets at Ross where I usually go to find great deals, but since I have prime (thanks to my husband forgetting to cancel his free trial) I figured why waste gas and just order these cute clothing sets. I got 4 for $33 with tax. Not too bad really!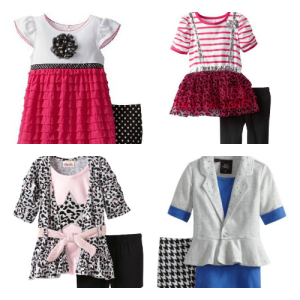 Clothing Sets on Amazon For As Low As $4.19
When on Amazon, select size needed on the left hand side for easier browsing.
Hope you all can replicate this deal. Just remember, Amazon's prices fluctuate every day.