Disclosure: I was compensated for this post for Trumoo Chocolate Marshmallow Milk
This February, for a limited time only, you can get your hands on the TruMoo Chocolate Marshmallow milk at Target Stores! I have a sweet tooth and couldn't wait to try this since I absolutely love chocolate milk. I mean, who doesn't love chocolate? Chocolate and marshmallow's kind of go hand in hand, especially during these winter months when you want to warm up with a delicious hot drink. Just stick it in a mug and warm it up in the microwave, then add some crushed graham cracker to the rim and you have your very own Smores drink – so yummy!
I like mine cold and warm, but either way it's nutritious and delicious. TruMoo Chocolate Marshmallow milk is made with fresh white milk sourced from regional dairies around the country, pure cocoa and just enough natural sugar to make it taste great. TruMoo Chocolate Marshmallow milk also contains no artificial growth hormones and no high fructose corn syrup. So overall, it has less sugar and is better for you than most juices and soft drinks. I love knowing that it has no high fructose corn syrup in it for when my nieces come over and want a little chocolate milk to drink during their stay. They can be happy and healthy!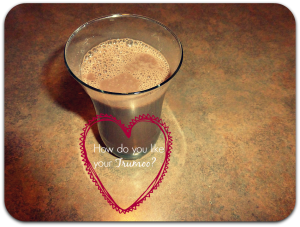 Usually in the mornings, I have a protein shake for breakfast and decided to try trumoo chocolate marshmallow milk in place of regular whole milk and let me tell you, it was so much better and had a nicer creamier texture which made it taste just like a chocolate banana milkshake. I added a banana, some all natural Greek yogurt, protein powder, ice, Trumoo chocolate marshmallow milk and wa-la… a simple chocolate banana shake.
Follow TruMoo on Facebook and Twitter to stay up to date for offers and promotions!