Have you ever traveled to a different country and got on the web only to find that your favorite websites were blocked? Yeah, it sucks! I had the shoddiest internet in Mexico and I wished I would have gone with TunnelBear VPN to avoid the annoying issue. I could have used sites that wouldn't load and would have been a happy camper knowing that I am also protected against network intruders.
You may be asking yourself what a VPN is…
A VPN is a virtual private network that uses a public telecommunication infrastructure, such as the Internet, to provide remote offices or individual users with secure access to their organization's network.
So when I was in Mexico, I was on a public WiFi network. The problem with most free WiFi networks is that they're public, which means anyone with a smart phone/tablet/laptop can connect to it. This makes you vulnerable to people tapping into your device, viewing your most private files and data. A VPN network routes you through a secure network, yes, even on public WiFi, granting all the perks of a private network while still allowing you to have the freedom on the public WiFi, which is exactly what TunnelBear VPN does.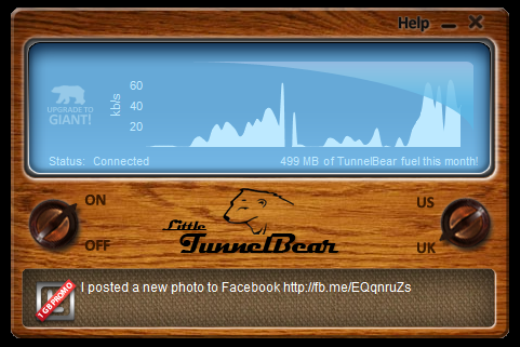 I like TunnelBear because the VPN software is user friendly and securely "tunnels" my internet connection to locations around the world. TunnelBear not only protects your privacy, but they bypass internet censorship and allow you to experience the internet as people in other countries experience it.
Best part is, you can download it on Windows, Mac, iOS, Android, and Linux, which all provide a step-by-step guide to setting it up.
All I did was download it on Google Play Store, created a FREE account, verified my email, logged in and turned on the TunnelBear VPN connection. Yes, it was that simple.
They give you 499mb free a month, but you can participate in their twitter promo and get 1 gb for free each and every month. Sounds good to me! If you think you'll need more data, there are in-app purchases to upgrade this. For $2.99, you get unlimited data for your android device paid monthly, and a $29.99 option for unlimited data for your android device paid yearly, which saves you 19%!
If you'd like to learn more information about TunnelBear VPN and the service they provide, check out their handy help section.
Do you think TunnelBear is something you'd use for privacy while browsing the internet? Let us know in a comment.