I am appalled at the prices of regular cigarettes nowadays, aren't you?
Just the other day, my husband and I ran to the 7-Eleven and and of course they had advertisements of cigarette prices on the windows for $8+ a pack and all I kept thinking to myself was how could people who smoke afford a pack, AND it's a good thing I never started up on that nasty habit! Now I understand why my mom asks me for cigarette coupons all the time; It's just not an affordable habit. (I still don't know why I get cigarette coupons sent to me when I don't smoke, but I guess they know I am a coupon clipping queen. /shrug)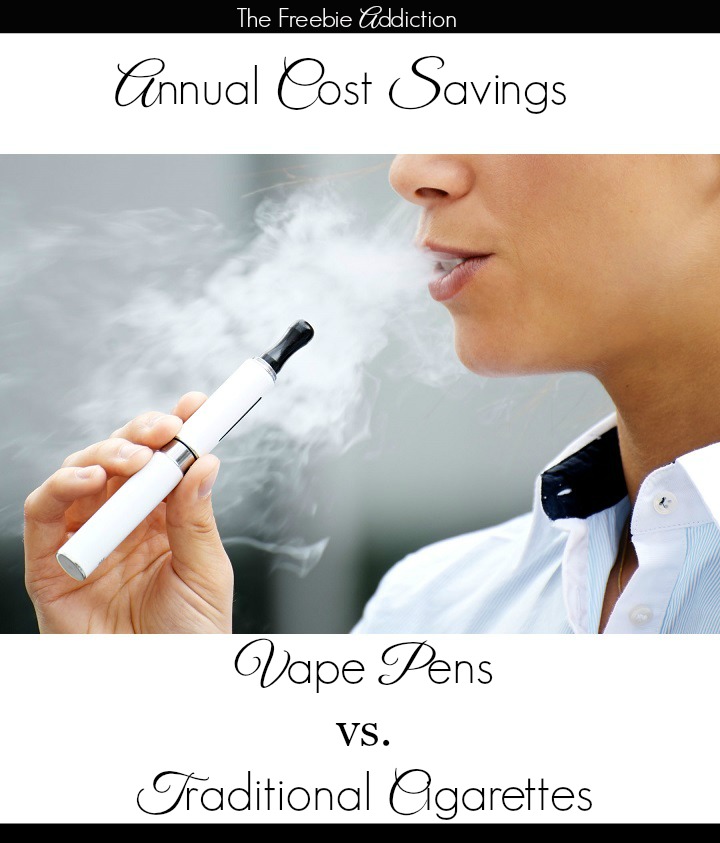 My parents both smoke and probably about a pack a day EACH. Could you imagine the overall costs of that over a course of a year? They would rather go broke then to go without smoking, which tells you just how bad this cigarette addiction can be. So, let's do the math here, if both my parents each smoke a pack a day at $8 a pack since they have to have name brand cigarettes that's $16 dollars a day for 365 days which comes out to $5,840 give or take per year. Now my parents are probably the more extreme case of cigarette smokers. And obviously the amount spent is going to pertain to how many cigarettes you smoke a day, so your overall costs are going to vary.
With Vapin Plus vape pens, there's 10ml of e-liquid in them which should last the average smoker who smokes about 15 cigarettes a day about a week. Crazy how 15 cigarettes is the average huh!? That 10ml of e-liquid is equivalent to 100 cigarettes.
If you were to switch to a vaporizer e-cig pen and bought the starter kit, it would you cost you about $25+ depending upon your style of e-cig (yes, there are many different types), then $5.99 for 15ml of e-liquid which would be equivalent to around 150 cigarettes. So let's just say that the e-liquid would probably last about a week; the average yearly cost would be around $311.48. Now from what I understand, the batteries and atomizers will also come into play of your overall costs.
Depending on the battery size, this is an estimate of how long each should last without having to be charged:
Mini– lasts up to 175 puffs
Standard – lasts up to 250 puffs
High-Capacity – lasts up to 350 puffs
Generally, you should expect your battery to take up to 250 charges. Prices vary on the batteries, but they average around $16+ for each battery. So with a high-capacity battery, you will likely be able to get up to 87,500 puffs before needing a replacement. So let's say you'll need about 4 batteries per year, that's about $64.
You'll also need to replace the atomizer in the vape pen, which is the thing that heats the e-juice. Atomizers can last up to a year, but on average they endure about a month or two of usage. Again, much of it depends on the type and frequency of use. A 4 pack of atomizers is $4.99, or if you want the atomizer tank, it's 7.99 so depending which one you go with, you'll probably spend around $59.88- $95.88 per year on the atomizers.
Now let's calculate the annual cost savings of vape pens vs. traditional cigarettes
Vape Pens = $471.36 per year guesstimate.
Traditional Cigarettes = $2920 per year depending on your states cigarette prices as well as if you were to smoke a pack a day.
You would be saving $2448.64 per year if you were to use vape pens rather than the traditional cigarette. That's a mortgage payment for a nice house! I know I'd be switching or at least trying to quit if I smoked. I mean if this doesn't make you think, I don't know what will.
Do you smoke and/or have you tried the vape pens yet?