My sister is finally getting married after 8 years of being with her boyfriend… which means I get to help point her in the right direction of finding an affordable, yet simple and elegant wedding dress. She doesn't want anything too fancy or outrageously priced since they're not having a big ceremony, which I can relate to. When I got married, I actually went with a prom dress, which I was fine with since I didn't have too much time to make a decision or search, but now I wished I would have had more time after finding JenJenHouse on the web.
I absolutely love A-lines and floor length chiffon's since they remind me of Greek goddess's. Something about them just makes you feel and look like a princess!
I love the colors and the fact that they have them in all sizes to accommodate women big or small. Nothing is worse than finding a dress you absolutely love and it not being in anything bigger than a size Large. I wear XL, so occasionally I'll have problems finding something cute in my size.
And the great thing about all of these dresses is that they are all listed at under $150 with their current 70% off sale which lasts for another 2 days!
JenJenHouse also gives their customers the option to the change the language on the site and purchase a tailor made dress in their countries currency, which is awesome because it means they're not specific to just one type of clientele. You can order a dress from JenJenHouse.com anywhere in the world, just make sure you accurately measure yourself so they can get it right! You don't want to find out that it doesn't fit quite the way you'd hope for your special day, whether it be at your wedding, prom, or a special event on the red carpet.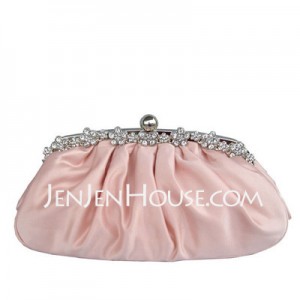 Pair it with an accessorized clutch like the one above and you'll have yourself the perfect ensemble.
Did you go to prom? Was it worth all the hype?
Disclaimer: I received monetary compensation for this post. I was honest and my opinions are my own. I am disclosing this in accordance with the Federal Trade Commission's 16 CFR, Part 255: "Guides Concerning the Use of Endorsements and Testimonials in Advertising."