The Purex brand provided me with a sample of Purex UltraPacks plus Oxi in exchange for a product review. However, all thoughts and opinions are my own.
Purex has come out with a new product called Ultrapacks plus Oxi, and to me, anything with oxi in it is a no-brainer for those that want to fight the toughest, dirtiest grime that has found it's way on your clothing. They are in convenient Ultrapacks, so you don't need to mess with any bottles, spilling it over the side of your cap, or missing some in the laundry tub compartment. They're quick and easy to deal with!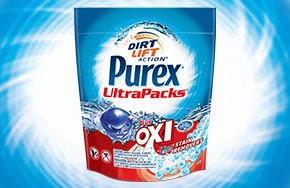 I didn't really notice any fragrant smell that is potent enough to cause allergic like symptoms to those with sensitivities. My husband is sensitive to perfume smells, so this was a good option for us. He also does jiu jitsu in his gi, and it can get really sweaty and start to smell quick. We toss it in the front loader and it comes out looking new and smelling fresh every time.
It really doesn't get any better or easier than this. You should give Purex UltraPacks plus Oxi a try, beats paying a fortune for Tide Pods.

All posts here are to help our fellow frugal friends score the best freebies and deals possible through various companies, including Amazon. At times, we do earn a small percentage on purchases made through our links, which helps keep the site running.