I've always loved those aerosol sprays that smelled like fresh, clean laundry. It's the best smell in the world, at least to me anyways. I feel like with my front loader, I don't always get those nice pleasant smells that I aim for when I wash laundry. You want it to actually smell clean, but sometimes that's not the case with HE detergent.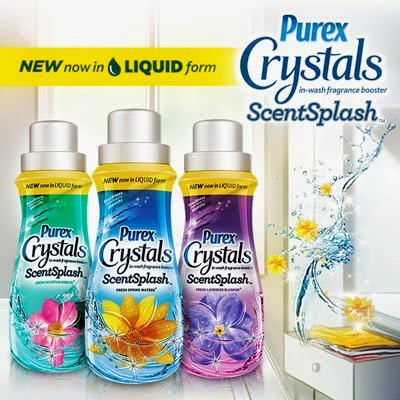 Now I have the pleasure of trying Purex Crystals ScentSplash laundry booster thanks to Purex Insiders to see if it helps out with my problem.
I like that I don't have to deal with the Purex Crystal beads since it's now in liquid form. Every time I tried to put some in my front loader, a few would spill out onto the floor creating a mess I didn't particularly want to deal with. Now that I have a new baby coming along, I definitely don't want to deal with crystals on the floor for her to get into! Liquid is so much more convenient and easy to use. Just pour it directly into the washer or in-wash tray. Works great in combination with your Liquid Fabric Softener. We recommend you use a minimum of a half cap full for maximum freshness. Purex Crystals ScentSplash is also safe for regular and high-efficiency (HE) washers, and for all loads of laundry including towels, active-wear, and children's sleepwear.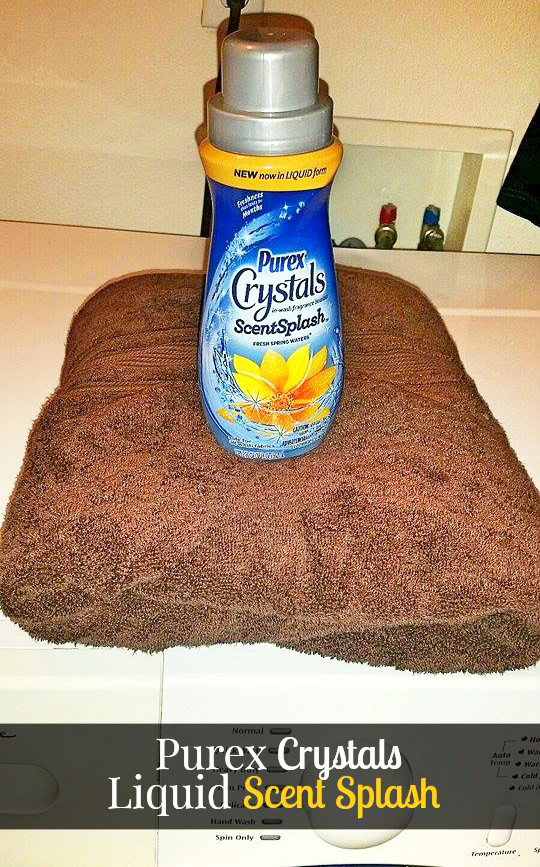 Purex Crystals Liquid ScentSplash Laundry Booster Scents
Fresh Lavendar Blossom: Wander through colorful, sun-lit fields of lavender and give your laundry an incredible just-washed freshness
Fresh Mountain Breeze: Capture the exhilirating moment of a crisp, fresh breeze and give your laundry an incredible just-washed freshness
Fresh Spring Water: Wade into cool, enchanting waters and give your laundry an incredible just-washed freshness
I don't know how the others smell since I received the Fresh Spring Water, but it's definitely how you imagine flowery water would smell. I also love that the liquid lasts 35% more than the crystals. Long lasting freshness is important, especially when clothes are sitting away in the closet or drawers.
What scent are you most excited to try?