I absolutely love Dial® products. In fact, I currently use Dial® body wash, acne face wash, bar soap and the new Dial® Sugar Cane Husk Scrub that isn't in stores yet!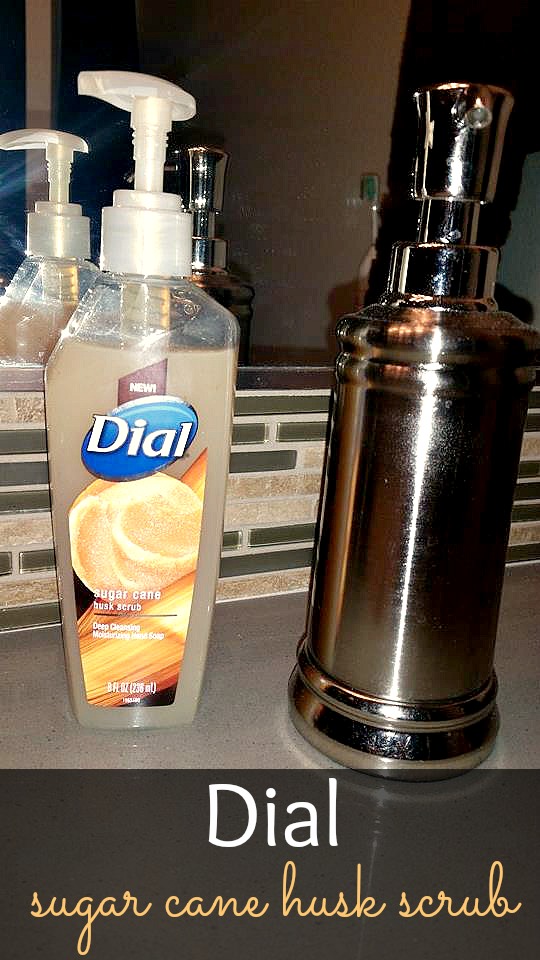 The Dial® Sugar Cane Husk Scrub Hand Soap is the newest member of the Dial® Boutique Collection Hand Soap line, which brings luxury to your hand washing experience. It is an indulgent scent inspired by freshly cut Sugar Cane. This premium formula has gentle micro scrubbers that cleanse your hands deeply while moisturizing and smoothing your skin. This is perfect for me because I wash my hands a million times a day from constant pregnancy bathroom runs, food prep and such, so I don't need them drying out. I've been using it for a week and can say that it lives up to its claims, which is awesome!
As you can see, the bottle is the size of a standard bathroom soap pump and the best part is it retails for under $2 at stores like Walmart and Target. Perfect price for such a high end product that you'll find at your other bath and body stores for 3x the price.
I also love that the bottle looks great in my bathroom that we had done. We had just ran out of hand soap, so the Dial® Sugar Cane Husk Scrub came at the most perfect time. Now I know what I am replacing my current hand soap with. Hopefully these come in the bigger jugs of soap so I can fill it up in my soap pump. *hint hint Dial®*
Disclosure: As a member of Purex Insiders, The Dial® brand provided me with a sample of Dial® Sugar Cane Husk Scrub Hand Soap and free product coupons in exchange for a product review. All opinions expressed here are my own.