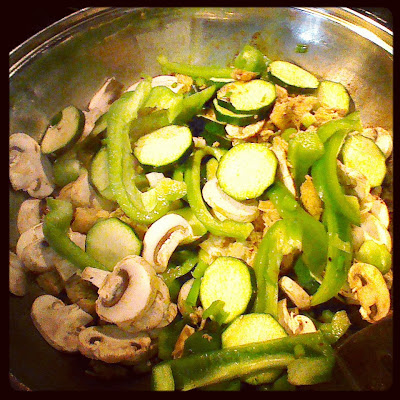 My absolute favorite type of food is Chinese, but since I cannot have Chinese as much as I'd like to because of dieting reasons, I have to settle for 2nd best, which is Pepper Steak Stir Fry. Although lately, I have been making it with chicken instead and substituting white rice for quinoa.
Ingredients:
1 1/2 lb of Lean Beef Round Steak (or whatever meat you prefer)
1 tbsp Paprika
2 cloves Garlic (crushed)
2 Tbsp Butter
1 Cup Green Onions (scallions)
2 Bell Peppers
2 Large Tomatoes
1 Cup Beef Broth
1/4 cup Water
2 Tbsp Cornstarch
2 Tbsp Soy Sauce
2 Tbsp Worcestershire Sauce
1 cup Rice (or quinoa)
and since I like altering recipes to suit my mood; I add in a couple of Tbsp of Teriyaki sauce and chop up an entire zucchini, along with some cremini mushrooms. I guess it's all a matter of preference in vegetables. =)
Instructions:
Cut up steak and sprinkle with paprika and let stand while prepping vegetables.
Cook steak and garlic in butter, soy sauce, and Worcestershire sauce til brown.
Add onions, green peppers, zucchini and continue cooking until veggies welt.
Start boiling water for your rice or quinoa.
Once veggies have welted, add tomatoes and broth, then cover and simmer for 15 minutes.
Cook rice or quinoa according to directions.
Blend water w/ cornstarch and stir into steak and cook until sauce thickens and serve.
Occasionally, I will get the Iron Chef General Tso's Sauce to top it off with since it's natural, contains no MSG or preservatives, and gives it that overall Chinese flavor that I crave when I can't have yummy deep fried crab puffs, shrimp, or sweet and sour chicken. It still has sodium, but what doesn't? *wink*

Stay up to date in real time by downloading my easy to navigate toolbar. You won't ever miss a freebie or deal again!