Being a part of Influenster comes with perks, like receiving super awesome VoxBoxes like the J'Adore Voxbox below. It came with a family size bag of Hershey Kisses (Yum!), kiss eyelashes, Botanics Ionic Clay Mask, Red Rose Tea samples, John Frieda Frizz Eaze flat iron spray and Vaseline men's spray lotion.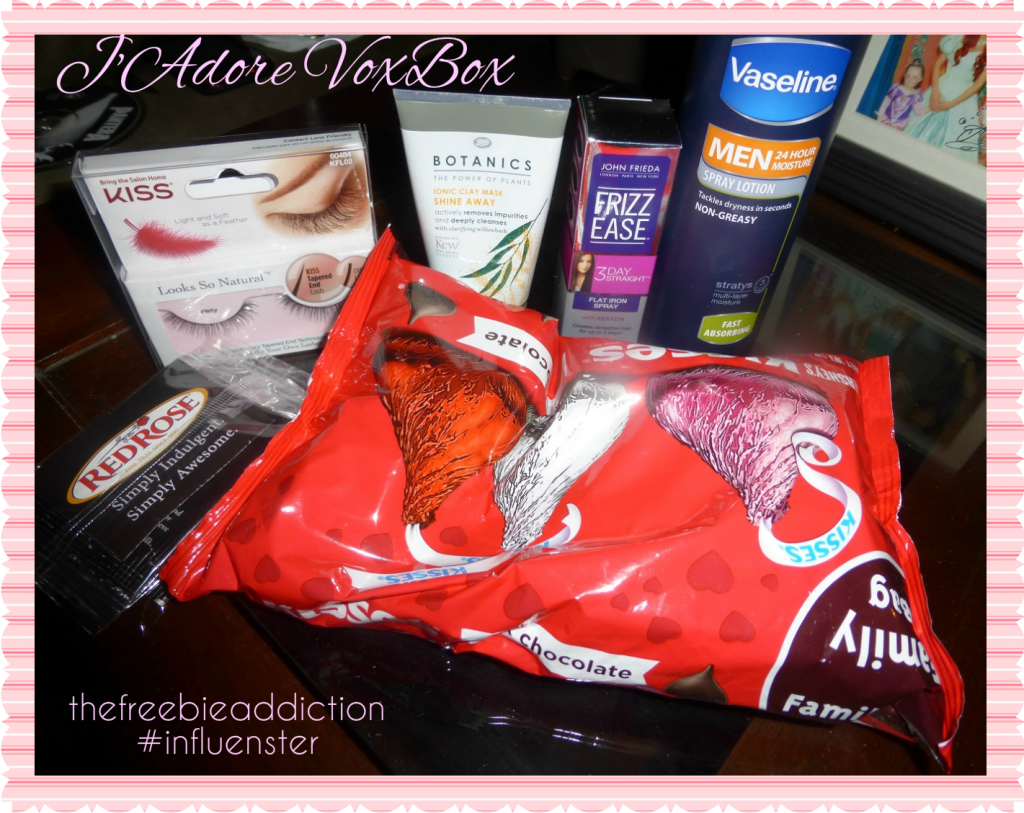 Botanics Ionic Clay Mask
I tried out the Botanics Ionic Clay Mask and love that it doesn't take too much to cover the face. After use, it made my face feel soft as it claimed and visibly reduced shine. I always seem to have problems with shine, especially on the forehead. I never realized how shiny my face was/is until I see it in photos with the flash bouncing off my face. UGH! It doesn't have a weird smell and it feels nice and tight when it dries. I did kind of feel like an ogre with it on since it's green, but whatever, ogres are cute.
Hershey Kisses
I did devour almost half the bag of Hershey kisses. They're so addicting, wow, I can eat like 10 in a sitting, but, that's obviously not good for the diet! If you haven't had a Hershey kiss ever in your life time, you're so missing out. Nothing like sweet milk chocolate to perk up the taste buds. #LoveandKISSES
John Frieda Frizz Eaze Flat Iron Spray
I love it!! It makes my hair look sleek, straight and shiny with NO FRIZZ PERIOD! I have naturally wavy hair so getting it to stay straight all throughout the day is a huge problem.