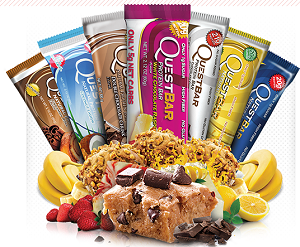 Get a FREE Quest Low Carb Protein Bar!
Now you can get that amazing taste in an all natural, high protein (20 grams!) bar with none of the guilt! **Sweetened with Stevia and Erythritol.QuestBars are the perfect nutrition bar for anyone looking to get top quality protein while dropping some carbs from their diet. They're as delicious and convenient as a candy bar, while maintaining all of the nutrition of a carefully prepared meal that's packed with fiber to make you feel full and to help with digestion and weight loss.
• Protein Blend (Whey Protein Isolate, Milk Protein Isolate), Isomalto-Oligosaccharide* (100% Natural Prebiotic Fiber), Almonds, Water, Erythritol, Freeze-Dried Strawberries, Natural Flavors, Lo Han Guo, Stevia.* Isomalto-Oligosaccharides are 100% Natural Prebiotic Fibers derived from plant sources.
• Gluten Free
• Yeast Free
• Wheat Free
Your FREE Quest Low Carb Protein Bar will arrive in 4-8 weeks.