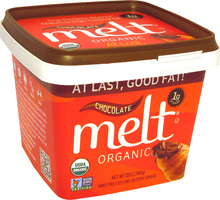 Update: Apparently they are experiencing technical difficulties with their coupon app, so please keep checking back if you're interested in getting FREE Chocolate Melt Organic Spread
Melt Organics is giving away high value coupons for liking their Facebook page so you can score FREE Chocolate MELT Organic Spread at a store near you.
Chocolate MELT Organic is truly good for you because it combines MELT's Perfect Blend of the healthiest oils with the lush taste of chocolate. Each square of Chocolate MELT Organic is certified organic, non-GMO, kosher and made with Fair Trade Fair for Life certified virgin coconut oil and Rainforest Alliance certified palm fruit oil. Chocolate MELT Organic is also soy free, gluten free, dairy free and trans fat free. Each serving of Chocolate MELT Organic is a rich source of the 'good fats' with an ideal balance of Omega-6 to Omega-3 ALA (that are optimally metabolized with virgin coconut oil), and has 425 mg of Omega-3 ALA (or 26% RDA) and Vitamin E (or 15% RDA).