Free Firecracker Chicken Coupon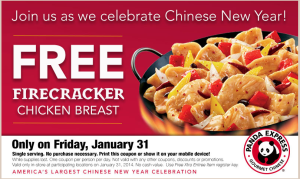 On January 31st, Panda Express is giving away a Free Firecracker Chicken Coupon in celebration of the Chinese New Year! Valid at participating locations only. No purchase is necessary, single serving only and while supplies last.
Firecracker Chicken Breast is a classic dish inspired by the Sichuan province. It starts with marinated, all-white meat chicken breast, sweet red and yellow bell peppers, and crisp onions tossed in a sizzling hot wok with the perfect amount of spicy black bean sauce.
And for the health conscious, I have taken the liberty in providing you the nutrition facts for your convenience and awareness.