Do you find that you're making the same meals over and over and are slowly growing tired of it? I know I am!! We usually have our every week meals, tacos, stir fry, casseroles, pizza, chili, and etc and I can never find a simple, affordable meal plan that doesn't wow me enough to branch out and try new food items. Either, it's too expensive, or it doesn't contain something that we both like. My husband is a picky eater, probably more so than a young child, so finding something that's suitable for his pallet is quite the challenge. Hopefully when I give eMeals a try, he'll be pleased!
Apparently they send you a weekly grocery list along with the recipes, where to buy and how much it's going to cost you. I don't really know if it gets any simpler than that and I cannot wait to try them out! Normally this program costs around .16 a day, so it's also very affordable to have everything pretty much planned for you. I imagine if there's something that you don't like in the recipe line-up, that it can be easily exchanged for something else.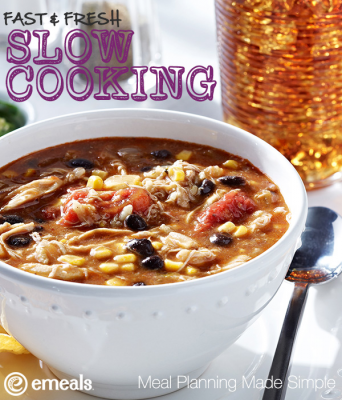 For those of you that don't know, eMeals.com, the leading online meal planner, has launched a new slow cooker meal plan to make your life even easier when it comes to getting meals on the table! Each slow cooker plan will include 7 crock-pot dinners, with some time-saving "cook once, eat twice" favorites. They have both a Slow Cooker Classic plan full of tasty comfort food as well a groundbreaking Slow Cooker Clean Eating Plan that serves up quick, simple, and healthy meals. Right now, you can use discount code LUNCHFREE for a free lunch meal plan with the purchase of a dinner plan.

Stay up to date in real time by downloading my easy to navigate toolbar. You won't ever miss a freebie or deal again!