If you spend time on large bodies of water, then you need this fabulous Intex River Run floating device! I bought my husband and I each one like 5 years ago and they're still going strong, even after taking them down some rocky rapids. It honestly has been the best investment so far, according to my husband. And right now, they're only $15 at Walmat (online, not sure about in-store). You can check in-store and see if they're the same price, if not, get on your smart phone and order it online and have them ship it to store or pick it up in-store for the online price.
53″ diameter circle

Mesh bottom to keep cool

Built in backrest for comfort

2 heavey duty handles

2 cup holders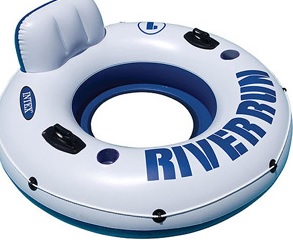 I'm posting about this because this price is excellent. You probably won't find them any cheaper than this right now, especially with summer arriving soon and all. The Intex River Run is $17.59 on Amazon right now, which is still decent if you have prime since they're usually around $25 each.