With the holidays here, every little bit of savings here and there helps, which prompted me to check out and download this chrome extension called Max Out Checkout. If there's a coupon code for an item you're looking at on a particular website, it will pop up and let you know instantly. If there isn't, it will show you all the coupons available for that website as well. There are 25,000 stores in Max Out Checkouts database with online coupon codes. Wowzers!
I decided to give it a try after I downloaded it and went to my favorite site Amazon. As you can see in the screen shot, it showed 92 coupons and 331 hot deals for this store.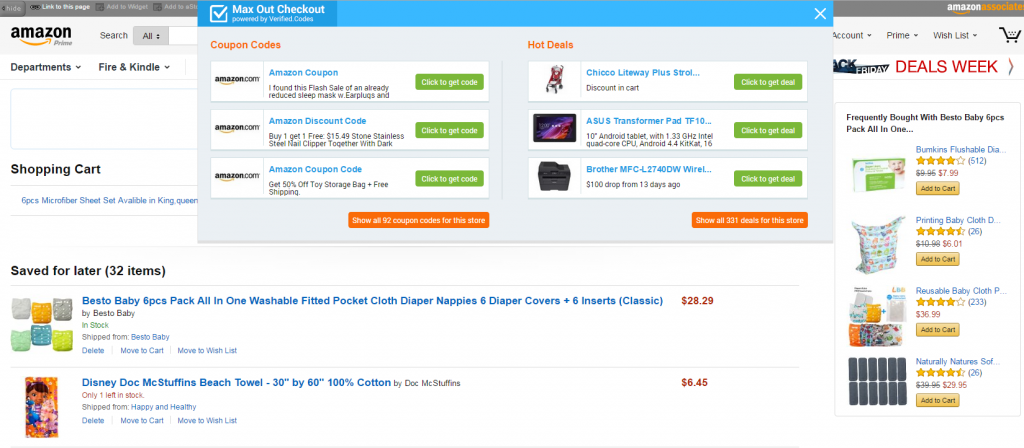 I do notice that a lot of the coupon offers on items throughout Amazon are usually from 3rd party sellers, but that doesn't mean you should refrain from buying from them. Amazon holds your money you pay to the seller for 2 weeks; if they don't ship it and you don't receive it, you get your money back guaranteed! I've gotten a lot of freebie offers on Amazon by using the coupon codes, in fact this one company Bella was giving away a hair detangler set, which was perfect because my niece hates her curly hair brushed. It was 100% free, so I didn't have any money to lose if it didn't do what it claimed.
I decided to check out JCPenney since it's another store I like to browse for great online deals and found that it had a 25% off coupon that I was able to use on already clearance maternity jeans that were $14.99, so I saved an additional $3.75 – not bad if I do say so myself.
With this savings extension, I won't have to search Google for coupon codes anymore, which saves me time and makes me happy.
Have you tried Max Out Checkout?