Where has the year gone? I swear the holidays were just here a few months ago. Either way that means holiday shopping time and I have a nice website to share with you. You'll even receive $7 off your first purchase by entering Save7Novica at checkout!
Novica.com has just about everything, jewelry, holiday decor, notebooks, journals, home decor and they're crafted and created by different people all over the world. I love the fact that this website includes some information along with a photo about the person who made the item. Makes it that much more personable when buying.
I have my eye on this bird journal for my sister who is going through a rough time right now. I feel like this will help her vent and get some emotions out that she can't very well do publicly. Journals may seem like an ancient way of getting your thoughts across with internet blogging being a more logical choice, but some people just don't want to vent their raw feelings and emotions for every one to see.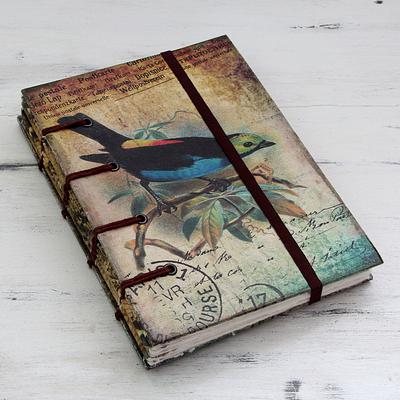 So if you're looking for a neat and authentic gift idea for a loved one or friend, go check out Novica!
How would you like to win a gift card to Novica? You can enter to win a $25 gift code to Novica by leaving a comment on my post about what you'd purchase from Novica.
Giveaway will end on Nov 24th, 2015 at 11:59 pst.
Need some inspiration on what to purchase? Here is a great list of popular items!