This post brought to you by White Cloud . All opinions are 100% mine.
As you all know, toilet paper is definitely not created equal when it comes to softness, durability and price. White Cloud, an exclusive brand at Walmart, has come out with a new and improved premium 3-ply Ultra Soft & Thick Bath Tissue. You can get a 16 pack of White Cloud which is the same price as a 12 pack of a competitor brand. You're getting 33% more rolls and saving more money in the long run!
With the new 2-ply being stronger and softer, consumers can use less, making the roll last longer. This is great news to me, because bath tissue is not cheap! The new 3-ply is also softer and thicker with a quilted pattern that provides a premium look and feel.
White Cloud is pretty ecstatic about the new and improved formula and want you to try it out for FREE by checking out their FREE 4 ALL Coupon on Facebook when you Like White Cloud on Facebook.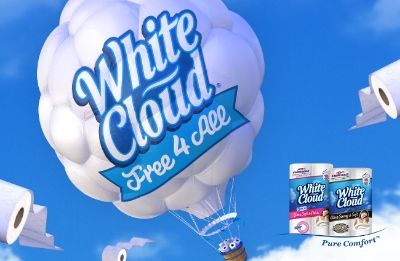 Fans of White Cloud on Facebook will be given the opportunity to obtain a FREE 4-pack of White Cloud's new and improved premium 3-ply Ultra Soft & Thick Bath Tissue with the purchase of any White Cloud Bath Tissue through a high value coupon ($1.97 off) if you share the coupon on the social channel of your choice (Facebook, Twitter, or Pinterest), AND a $1 off coupon is available to fans that simply wish to print a coupon.
Let us know your thoughts on how well it compares to other more expensive brands like Cottonelle and Quilted Northern. Remember, this brand is only located at Walmart. Find one near you with this Store Locator.
Engage with White Cloud:
Follow White Cloud on Pinterest
Coupon Disclaimer: Limit One (1) Coupon Per Purchase. White Cloud® Bath Tissue is only available at Walmart stores. No facsimiles or reproductions. May not be sold or transferred. Must present coupon at time of purchase. Any other use constitutes fraud. Valid only in USA. Void where prohibited, taxed or restricted. Case value 1/100¢.