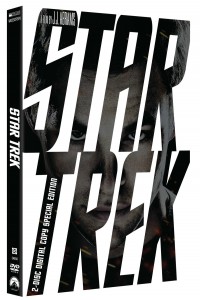 If you're a big fan of the Star Trek genre and you still have a regular DVD player, you may just want to snag this Star Trek DVD (2009) for only $2.99 right now on Amazon! That is one heck of a deal. Even if you already have it, it would make a great yet inexpensive gift for someone else.
The greatest adventure of all time begins with Star Trek, the incredible story of a young crew's maiden voyage onboard the most advanced starship ever created: the U.S.S. Enterprise. On a journey filled with action, comedy and cosmic peril, the new recruits must find a way to stop an evil being whose mission of vengeance threatens all of mankind. The fate of the galaxy rests in the hands of bitter rivals. One, James Kirk (Chris Pine), is a delinquent, thrill-seeking Iowa farm boy. The other, Spock (Zachary Quinto), was raised in a logic-based society that rejects all emotion. As fiery instinct clashes with calm reason, their unlikely but powerful partnership is the only thing capable of leading their crew through unimaginable danger, boldly going where no one has gone before.
This will be fulfilled by Amazon, even though it's sold by a different merchant, which means you can use your prime account and have it arrive within 2 days!
If you haven't already had a 30-day free trial membership for Amazon prime, you can take advantage of this offer and sign up today. This will give you FREE 2-day shipping on some items (except add-on, unless they have subscribe & save feature). Otherwise, in order to get free shipping, you will need to spend $35 on a single order.