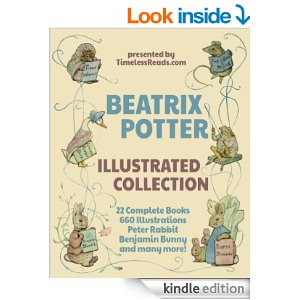 Amazon is offering a free download of the Beatrix Potter 22 Book Collection for eReader devices. You don't need to have a kindle to download this. Download the appstore on your smart phone, tablet device or send the download to your email address and go from there. You might want to do it before it's no longer free though. Amazon's prices are known to fluctuate without warning!
22 Books and 660 Illustrations!
The works of Beatrix Potter are some of the most beloved children's stories of all time. Now enjoy them all in a single, high quality collection at an amazing price.
The convenient table of contents will allow you to jump instantly to any of the 22 books, including timeless characters like Peter Rabbit, Benjamin Bunny, Squirrel Nutkin, and many more.
Any you're sure to love the 660 included illustrations, many in full color. In addition, you'll find a link at the end of this collection to download complete audiobooks of 19 of these timeless stories…perfect for letting kids listen along while they look at the pictures.
Download today! The full list of titles includes:
The Tale of Peter Rabbit (1902)
The Tale of Squirrel Nutkin (1903)
The Tailor of Gloucester (1903)
The Tale of Benjamin Bunny (1904)
The Tale of Two Bad Mice (1904)
The Tale of Mrs. Tiggy-Winkle (1905)
The Tale of the Pie and the Patty-Pan (1905)
The Tale of Mr. Jeremy Fisher (1906)
The Story of A Fierce Bad Rabbit (1906)
The Story of Miss Moppet (1906)
The Tale of Tom Kitten (1907)
The Tale of Jemima Puddle-Duck (1908)
The Tale of Samuel Whiskers or, The Roly-Poly Pudding (1908)
The Tale of the Flopsy Bunnies (1909)
The Tale of Ginger and Pickles (1909)
The Tale of Mrs. Tittlemouse (1910)
The Tale of Timmy Tiptoes (1911)
The Tale of Mr. Tod (1912)
The Tale of Pigling Bland (1913)
Appley Dapply's Nursery Rhymes (1917)
The Tale of Johnny Town-Mouse (1918)
Cecily Parsley's Nursery Rhymes (1922)