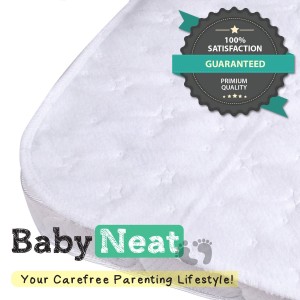 Amazon currently has the BabyNeat Waterproof Crib Pad on sale for $12.25, then you add code NMVEYZLJ in the promo code box at checkout to receive an additional 35% off, which makes it only $7.96! Perfect for a baby shower gift.
BabyNeat Waterproof Crib Pad / Crib Mattress Protector

Multi-Use Crib Mattress Protector, Crib Cover, Crib Topper, Cot Pad, Crib Sheet, Diaper Changing Pad
Corner Elastic Straps for Easy Change, Fast & Absorbent Soft Top
Key Benefits
✔ No more worries about diaper leaks and nasty germs!
Extra soft & fast absorbent top absorbs accidents quickly,
while 100% waterproof back protects crib mattress for longer durability and bed bugs/dust mites/allergens/bacteria -free zone for your baby!
✔ Ultimate multi-use to reduce your cost!
Replace similar products e.g. diaper changing pad, quick-change crib sheet, crib mattress pad
changing pad for stroller, bassinet, carriage, crawl & diaper changing table!
Some happy customers even think of more creative use!
✔ Unique corner elastic straps. Fast remove & change!
✔ Machine Washable & Fast Dry!
Customer Only Bonuses
– 100% Satisfaction Guarantee!
– Lifetime Warranty!