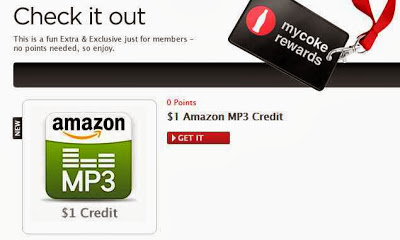 Get a FREE $1.00 Amazon MP3 Credit from MyCokeRewards. It's currently 0 points right now, but you will need to either log in or sign up to snag this.
To redeem:
Visit www.amazon.com/mp3credit to enter your code for a $1 MP3 credit, which you may use to purchase Amazon MP3 music. Your $1 Amazon MP3 code may only be used once. The code and credit expire at 11:59pm PT on November 30, 2013.

All posts here are to help our fellow frugal friends score the best freebies and deals possible through various companies, including Amazon. At times, we do earn a small percentage on purchases made through our links, which helps keep the site running.