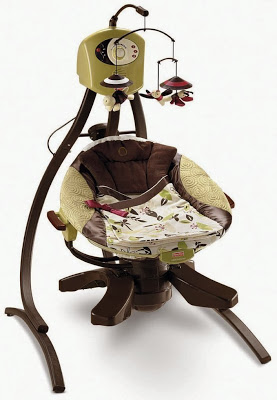 Amazon has dropped the price by $40 on the Fisher-Price Zen Collection Cradle Swing, which is now $119.01! If I was pregnant or currently had a baby, I would go for this one since I love the color scheme. But, alas, I cannot waste money on things I don't need right now! Super awesome deal since its normally $199 at Babys R Us.
Part of the new high end exclusive Zen Collection for Baby, sophisticated look has upscale materials and all the must have features moms look for
Features a seat that rotates 90 degrees to provide side to side cradle motion or front to back swing motion together with a range of speeds
Features two sound effect sound tracks and fourteen songs in a unique Zen like orchestration six lullabies and eight entertaining musical tracks
Beautiful accents and fabric design
Uniquely designed mobile with three fun patterned characters that moves gently and freely on their own to soothe and captivate baby
If you haven't already had a 30-day free trial membership for Amazon prime, you can take advantage of this offer and sign up today. This will give you FREE 2-day shipping on some items (except add-on, unless they have subscribe & save feature). Otherwise, in order to get free shipping, you will need to spend $35 on a single order.

All posts here are to help our fellow frugal friends score the best freebies and deals possible through various companies, including Amazon. At times, we do earn a small percentage on purchases made through our links, which helps keep the site running.