There's nothing worse than having a dirty carpet when guests come over. But man, I never realized how much I'd have to vacuum after having my nieces over. Spills here, crumbs there, I may as well wait until after they leave before I whip out the good ol' vacuum I got online at the Vacuum Online Market. Heck, it's not just the kids either, it's the adults too. We've had a few parties in our time and we spend so much time prepping and cleaning the house for our guests that it just ends up a pig sty after they leave anyways, so why do we bother? I honestly don't have a clue.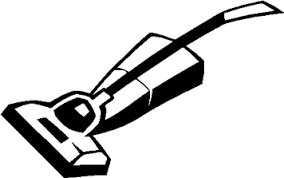 When you clean up the aftermath though, you want a good working vacuum but I'm not the type to shell out the big bucks for big name brands like Dyson. Dyson's don't always last and honestly, they don't live up to the hype in my opinion. Give me a Hoover any day. They work just as good and for a fraction of the cost.
All vacuums don't last forever, so there's really no reason to spend that much money when the suction on it will end up dying any ways. In fact, my sister has had a Dyson and she's gone through 2 of them since I've had my Hoover. What does that tell you?
I also have a cat, and lately she's been losing hair balls all over the carpet like crazy. (Thanks winter coat!) My Hoover picks up all of the hair and more. I am simply amazed at how much crap is literally pulled up out of the carpets. It's kind of amazing.
But in order to keep any vacuum cleaner in good working condition, they need to have the roller brushes cleaned weekly and the filters/canisters/bags need cleaned and replaced when recommended in your owners manual.
Need a frugal homemade carpet cleaner?
Ingredients
White vinegar
Baking Soda
Lemon essential oil
Scrub brush (can be found at the Dollar Store)
Directions:
Mix a 1:1 ratio of white vinegar and water in a spray bottle.
Mix a few drops of Lemon essential oil with some baking soda and sprinkle on the spot and let sit overnight.
Spray your white vinegar solution onto the baking soda spot and allow it to fizz then scrub with the brush.
Depending upon the severity of the stain, you may need to do this a couple of times.
What type of vacuum do you have and do you honestly LOVE it?